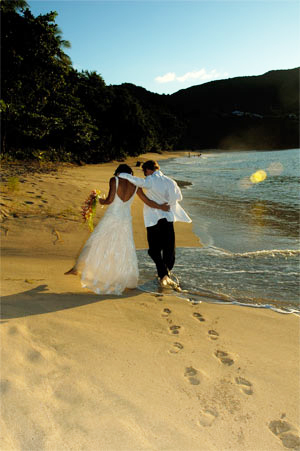 Bequia's special charm has made it an increasingly popular place for couples to exchange or renew their vows. The marriage ceremony can take place anywhere.... on the beach at sunset surrounded by scattered frangipani petals, in a hilltop garden with hummingbirds darting through the air, on a nearby deserted island, or in one of Bequia's beautiful old churches.

All the world loves a wedding - and Bequia is no different from anywhere else. If you choose the island's traditional method of travelling from your wedding to your reception in one of Bequia's open backed taxis, expect half the island to come out along the route to wish you well and vehicles to honk delightedly as you pass!

For visitors, the only requirement is that they reside in St. Vincent & the Grenadines for one full day before applying for a Special Marriage Licence, which will permit them to marry during their stay - even if it is only for a few days.

The wonderful thing about a wedding on Bequia is that, like the island itself, it's relaxed, it's warm, and it's what you have always dreamed it would be.